Are You Familiar with the Following Challenges?
You are looking for support in one of the following areas: Strategy and business model development, reorganization, restructuring, process optimization, mergers / acquisitions, digitization, innovation, or implementation of your plans?
You would like to find an external consultant for your project, but the quotes of large strategy consulting firms are too expensive? Or you do not know where to find the best qualified candidate?
You are partner or project manager of a consulting firm and quickly need additional resources or a particular expertise for your project team, but do not want to hire anyone permanently?
Our network currently comprises 700 consultants, whom we match to the specific needs of your project. Alumni of the top strategy consultancies and consulting boutiques are complemented by experts with deep expertise in their industries or functional focus.
Whether you are looking for a consultant, project manager or industry expert – with Consocium you will find the right candidate for your project. Thanks to our extensive consulting experience, we understand your requirements and how to match them with the necessary skills of our consultants.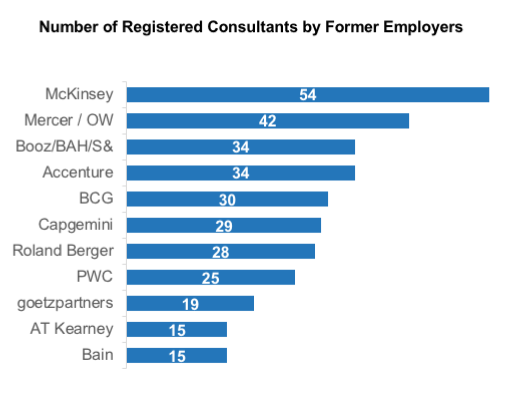 CV-Check
In a first step, we review a candidate's CVs and application documents to check whether they match our criteria.
Interview
In a second step, we conduct detailed interviews to verify the qualifications and expertise of new candidates.
Testimonials
In the third step, we ask new candidates' clients for feedback on their performance and collaboration.
To us, consulting remains a people business based on trust – even in a more and more digital world. As a premium service provider, we thus invest heavily in a high-quality selection of the best consultants and a thorough assessment process: Besides CV reviews and personal interviews, we check the qualifications of our candidates by interviewing their clients about their performance.
Our continuous quality management also includes customer feedback after each project. In addition, all of our consultants commit themselves to our Professional Standards.
Unbeatable Cost Effectiveness
Save up to 70% compared to daily consultant rates of the top consulting firms! How is this possible? All our consultants are self-employed. As a result, fixed costs are limited and you only pay for the real added value of the consulting service.
Moreover, the whole matching process is completely free of charge for you, regardless of whether you choose to work with the candidates we recommend or not. If the match is successful, our commission is paid by the consultant directly.
| Seniority Level | Typical Consulting Experience (in Years) | Typical Daily Rate (in Euro) |
| --- | --- | --- |
| Partner | 15 - 40 | 1.800 – 3.000 |
| Program Leader | 10 - 30 | 1.600 – 2.400 |
| Project Manager | 6 - 20 | 1.400 – 1.800 |
| Subproject Manager | 3 - 20 | 1.000 – 1.600 |
| Senior Consultant | 2 - 3 | 800 – 1.100 |
| Junior Consultant | < 2 | 500 – 900 |
| Industry / Functional Expert | Low, but long-term industry experience | 800 – 2.000 |
Throughout our proven matching process, we intensively scan our consultant pool to find the right competencies for your project. Based on our pre-selection of consultants, you can meet and interview them and choose the cadidate you prefer.
We make your immediate project start possible: In most cases, you will receive the profiles of our recommended consultants within 48 hours! In very urgent cases, we were even able to make a recommendation on the same day of the request.
Start your projects with the right consultants!